Music Lessons
Private lesson Instruction Available
| | |
| --- | --- |
| Flute | Oboe |
| Clarinet | Saxophone |
| Trumpet | French Horn |
| Trombone | Guitar |
| Bass | Piano |
| Voice | Violin/Viola |
| Percussion | Drum Set |
Jazz Improvisation (All Instruments)
Private Lesson Rates Dependent on Teacher and Ability Level
Murphy's instruction personnel are some of the best professional musicians in Western Pennsylvania. Our Teachers have appeared with Maynard Freguson, River City Brass Band, The Temptations, Harry Connick Jr., The Balcony Big Band and many other artists!!!
Instructional Opportunities
Murphy's instructors operate independently within our lesson studios.
Please contact us and we will put you in touch with an instructor that's right for you.
Most lessons occur weekly and are 30 minutes in length.
Murphy's Summer Jazz Program
Jazz Improvisation
Jazz History
Guided Listening
Combo Groups

Held annually in conjunction with Kiski Area High School in early June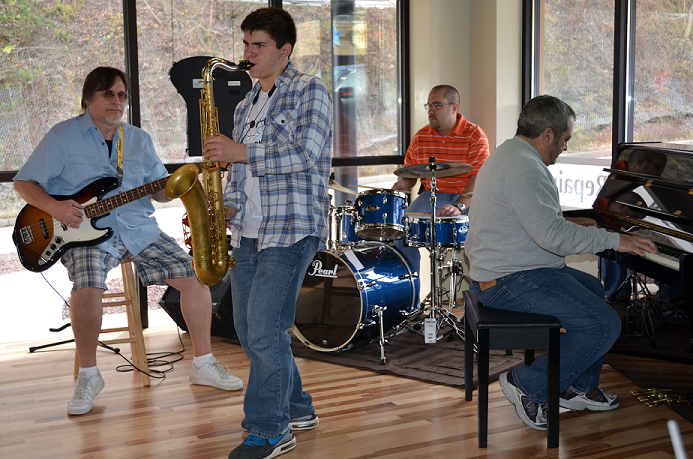 Current Instructors
Flute
Martha Capone


Oboe



Clarinet
Bob Cieslinski

Emily Rickard

Saxophone
Bob Cieslinski

Trumpet
Joe Perrino

Karl Priore

Bob Insko

French Horn
Matt Litterini

Trombone

Sean Durkin

Bob Insko

Joe Perrino

Guitar
Tony Buccicone

Joe Connor

Dave Minda

Bass
Bob Insko

Piano
Michael Busija

Michelle Murray

Marcia Becker

Voice
Michael Busija

Marcia Becker

Violin/Viola





Percussion
(Concert & Drum Set)
John Schmidt

Keith Munda
Lessons
- Click the button to email for more info on our lesson programs. Please provide your contact info, instrument, and years of experience. We will contact you right away. You may also call us at 724-842-8671 during regular business hours.